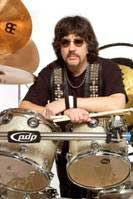 Jorge Iacobellis Pro Drummer


Jorge Iacobellis is an award winning drummer from Argentina who began his musical education in the Teatro Colon in Buenos Aires. With his own very personal style of extreme power and clarity, he was chosen as one of the best heavy drummers in 1992 through a national contest, promoted by the magazine "Drums & Percussion" and also appeared on the cover with a four page interview. Jorge played at many drum clinics and festivals and gained audience admiration and the respect of his local and foreign colleagues.

He played for well known pop rock singers, recordings and taking part in films and TV as a secessionist. He was a member of some of the most representative bands in hard rock and metal styles.

In the early 1990's, he produced, directed and played with TODOS TUS MUERTOS, one of the best rock bands to emerge from Argentina. He was the artistic and executive producer of their second CD "Nena de Hiroshima" and opened shows for KREATOR (Germany), RATOS DE PORAO (Brazil), STEVE JONES (Sex Pistols), MANO NEGRA (France) and THE RAMONES (USA).

He toured Brazil as guest drummer for the speed metal band GARCIA & GARCIA who recorded with Metal Blade, a USA recording company.

As the owner of "Mr Drums", a specialized drum shop, it became a must visit to artists like Billy Cobham, Eric Singer, Nicko McBrain, Carmine Appice, Greg Bissonete, Charlie Bennantte, John Dette, Dennis Chambers, Alex Acuna and others. He promoted and produced international bands on tour such as KREATOR, SICK OF IT ALL, VIPOR, RATOS DE PORAO and TESTAMENT. He assisted in the tour productions with KISS, IRON MAIDEN, MACHINE HEAD, Jerry Lee Lewis, MOTORHEAD, EXODUS, SEPULTURA, RAMONES, POISON, REO Speedwagon, SLAYER and LA GUNS.

With his band VELOCET, he opened for TESTAMENT, in two shows at Velez Sarsfield Staduim, Buenos Aires. Impressed by his performance, TESTAMENT invited him to come and play in the United States.

Leaving Argentina behind, he began his new career in Los Angeles, California.

Jorge became a member of "Rosemary's Billygoat", Los Angeles' kings of theatrical metal. He toured twice with the band throughout the US and Canada presenting their new CD "Evilution". Part of this tour was captured on film and included in footage of the documental video "Propstar".

The legendary metal band "HIRAX" contacted Jorge to become their new drummer. With only 2 rehearsals, he made the first tour to Germany. The German newspaper described Jorge as a "drum machine missile launcher".

In January 2004, in an eight hour session, he recorded the HIRAX CD "The New Age of Terror". The CD reviews describe Jorge's drumming as follows: "Drumming is excellent, and not used as just a back bone. It's frequently a highlight through and through. Strong double bass, high hat, snares and toms, it's all used with abandon." On July 15th, the CD was released in Europe by Mausoleum Records, Belgium and was chosen as the best HIRAX album by critics. The CD was presented in life concert in the big 2004 European summer open air music fests: Sweden Rock Festival, Headbangers Open Air Festival, Germany and Metal Bash Open Air Festival, Germany. HIRAX released the DVD "Bombs of Balingen" which is footage of the first German tour. After leaving the band, HIRAX released the 2nd DVD "Thrash 'Til Death" that includes the latest concerts with Jorge in Germany, Sweden and USA. The re-release of "The New Age of Terror" includes bonus DVD footage of Jorge's performance.

Performing and recording the "RISE" CD with Lunatics on Parole put Jorge in the spotlight again receiving good reviews.

Press reviews and interviews include "Metal Heart" and "Heavy" from Germany. He is mentioned in the "Guitar Player" magazine. The Spanish press describes Jorge as the most recognized international Argentine drummer in the metal style. He appeared on the cover of the Argentine magazines "Bateristas Del Sur" which included a 2-page interview and "Drums and Percussion" on the cover and a 4 page interview. As a member of the drummers club: www.clubdebateristas.net in Argentina, he writes the annual NAMM show report to update his fellow colleagues about all the latest products.

Prodigal Son, a band that Jorge had been a member off for many years, asked and contracted Jorge to be the recording artist on their CD, The Writer. The Prodigal Son has shared the stage with several bands the likes of NEVERMORE, GAMARAY, TESTAMENT, CAGE, THIRON, EXODUS, ANGELES DEL INFIERNO and others.

In May 2008, Katon de Pena, invited Jorge to return to HIRAX and tour with them in France. Upon their return, Jorge officially was recruited to the band and next toured in San Francisco in the "The Tidal Metal Fest 13" together with Exodus and continued touring in Hollywood, Oregon and recently Norway , Japan (2 times) Spain,Puerto Rico, and SouthAmerica countrys,Argentina,Chile,Venezuela,Colombia,Mexico.in 2010 He recording the new HIRAX CD, "El Rostro del la Muerte". and the first official video clip for the album

Additional musical activities include production and recording with Iggy Elisavensky, musician and recording engineer. Also, playing and working on current and future projects with the bands: Alter of the King (San Francisco), SLH, Rock-On, SilverSteel and others. Always eager to teach others, Jorge also enjoys giving private lessons and working on developing his first DVD drum clinic demonstrating his personal style in the US.

Jorge is proud to be artist drummer for DW DRUMS, REGAL TIP DRUM STICKS,AXIS Percussion, REMO DRUM HEADS, MEINL CYMBALS, AUDIX Microphones,ANVIL Case,SKB, MAXONIX ,and DANMAR Percussion, and can be found on their websites. Jorge has been invited by these prestigious companies to sign autographs during the NAMM shows. At the NAMM every year.at 2009, Anvil Case voted Jorge as their number one artist of the month.
In 2011 NAMM SHOW in California, Jorge Perfored for AXIS Percussion

Official website: www.misterpowerdrums.com
Other link: www.myspace.com/jorgeiacobellis www.facebook.com/jorgeiacobellis